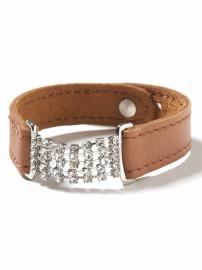 We love a good juxtaposition and today's Daily Bling,
Banana Republic's Sadie Bracele
t is just that. Equal parts classic and glamorous, we think this bracelet in itself is a total representation of today's American woman. She is sensible, classic, and stronger than ever before but has an affinity for all the "good things" in life- fun, fabulousness and fashion! And that make's a perfect Independence Day Weekend piece to feature as our Daily Bling if you ask us!
We love something else about it too - it's pricetag. It's a little luxury you surely could afford at only $19.50 and certainly will put a smile on your face. Pair it with white jeans, navy blue silk top, and Michael Kors Wedges for the weekend and embrace your inner American girl-next door!