I'm not talking politics here, ladies. I'm talking style. And everyone knows someone who is a bit "conservative" when it comes to their style. Maybe they are a teacher and need to have a wardrobe that's professional yet approachable. Or maybe they are just too practical to care too much about following the trends each season. Doesn't mean the conservative doesn't want to look nice! Pamper them with a gift that they'll wear over and over again and truly cherish!
Luxe
Gift Cards may not be very exciting, but the conservative will appreciate going shopping and getting everything they want for a new winter wardrobe from a go-to store for pretty, practical pieces like The LOFT!
A little Less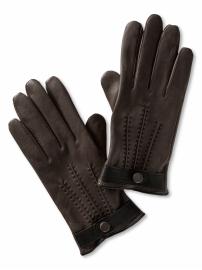 Everyone needs a warm pair of leather gloves during the winter months. She'll love this two-tone dark brown pair. The stitching and button detail add just a little bit of stylish flair!